Four Aunties and a Wedding by Jesse Q. Sutanto
Synopsis:
This is the sequel to Dial A for Aunties, the rambunctious romantic comedy by Jesse Q Sutanto. 'The aunties are back, fiercer than ever and ready to handle any catastrophe–even the mafia.'
Meddy Chan has been to countless weddings, but she never imagined how her own would turn out. Now the day has arrived, and she can't wait to marry her college sweetheart, Nathan. Instead of having Ma and the aunts cater to her wedding, Meddy wants them to enjoy the day as guests. As a compromise, they find the perfect wedding vendors: a Chinese-Indonesian family-run company just like theirs. Meddy is hesitant at first, but she hits it off right away with the wedding photographer, Staphanie, who reminds Meddy of herself, down to the unfortunately misspelt name.
Meddy realizes that is where their similarities end, however, when she overhears Staphanie talking about taking out a target. It turns out Staphanie and her family are The Family–actual mafia, and they're using Meddy's wedding as a chance to take out a target. Her aunties and mother won't let Meddy's wedding ceremony become a murder scene–over their dead bodies–and will do whatever it takes to save her special day, even if it means taking on the mafia.
Trigger Warnings: Mild violence, threat.
"We are not Denzels in distress."

Jesse Q. Sutanto, Four Aunties and a Wedding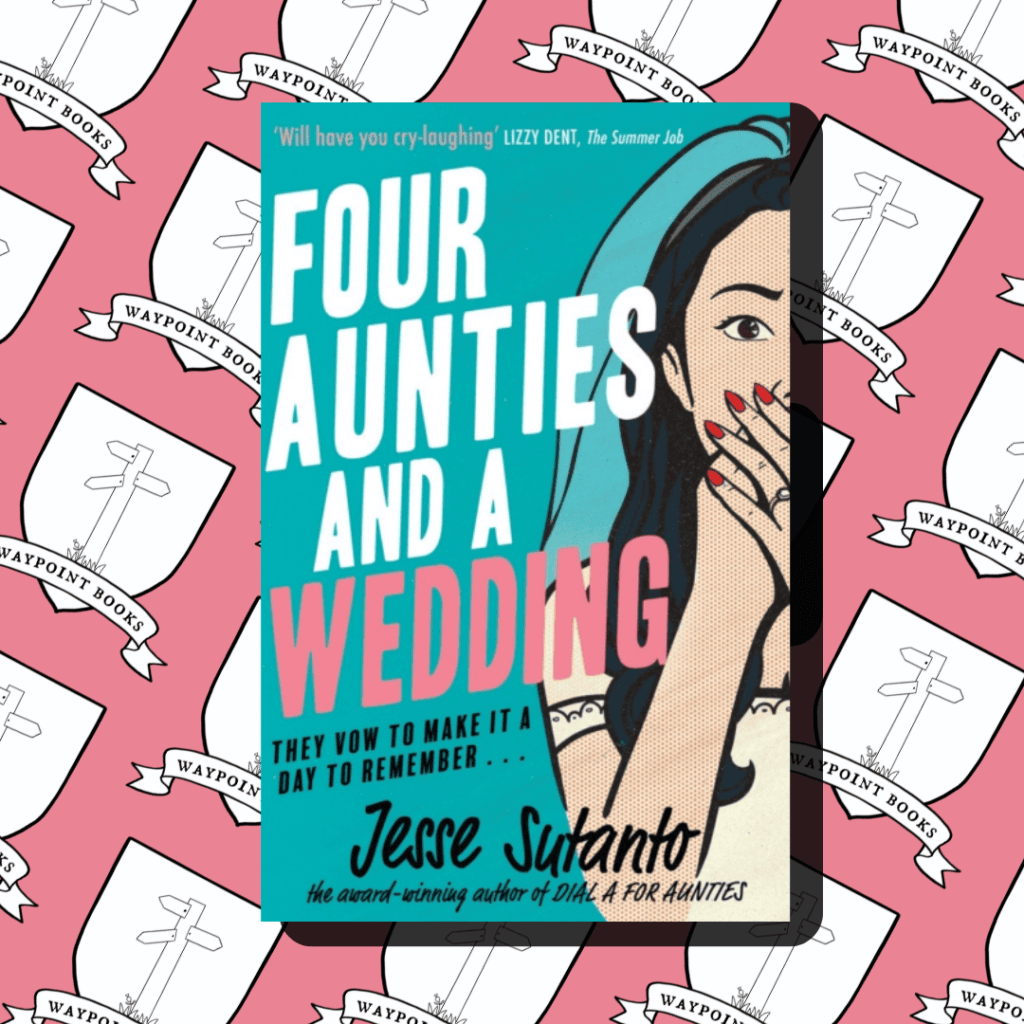 Weddings can be stressful even without the threat of the mafia – but as always, Meddy's aunties take the drama in their stride. From a casual bit of drug smuggling to kidnapping men twice their size, I'm starting to wonder if there's nothing these women can't do.
I have no hesitation in saying that this sequel holds its own after the titan that was Dial A for Aunties. Dial A was such a fun, crazy ride, that I was highly anticipating this sequel, and as such the bar was pretty high. This is always a danger zone for me, as I can often fall in love with the idea of a sequel more so than the execution of it. But Four Aunties and a Wedding felt like coming back to family.
We return to the charming perspective of Meddy, a frantic photographer about to marry the man of her dreams. However, when the mafia decides to get themselves involved in her special day, everything goes awry. (Although, if we're honest with ourselves, that's what we had our fingers crossed for.)
The aunties, with their eccentricities and individual 'isms' such as random bouts of Tai Chi which hurt rather than help back problems, falling in love with the bad guy, and their constant sparring steals the show every time. This series is reminiscent of Agatha Raisin and her hair-brained schemes to solve crimes, but with much better rep, a fresh and modern author and lots more tension. The tender narrative around the cultural differences between Meddy and Nathan's family could only have been crafted by an Own Voices author, and it's great to see more Indo rep in commercial novels like this. I do wish there had been more resolution there, but I'm hoping for a sequel and this would be a great starting point.