Books to Help You Escape to France!
I don't know when I noticed the sudden uprising of Croissant based titles being published; but now that I've noticed it, it's all I can see. French cuisine, Paris escapes – these are exciting themes for pretty much anyone (except maybe the French? I don't know). So take a promenade through the titles we've selected as some of the greatest stories set in France – as well as some of the ones we're excited to get to!
The Aerialists by Katie Munnik
The Aerialists is a historical fiction novel, set in both 1890s Paris and Cardiff. It promises exploration and adventure, rivalry and friendship. As a pretty new release, I haven't heard much about it, but the cover is stunning, the premise is intriguing and hopefully, Munnik has crafted a great novel set in France. (And Cardiff.)
The Nightingale by Kristin Hannah
Another historical fiction set in France, The Nightingale follows two sisters as their French village is invaded by the Nazis. When a German captain requisitions Vianne's home, she and her daughter must live with the enemy or lose everything. Without food or money or hope, as danger escalates all around them, she is forced to make one impossible choice after another to keep her family alive. But when her younger sister is betrayed the man she loves, she joins the resistance. This is a novel about two sisters, and how far they're willing to go to survive. We expect it to be poignant and painful, and it is high on our anticipated reads list.
One More Croissant for the Road by Felicity Cloake
Stepping away from historical fiction now, we have One More Croissant for the Road. Part travelogue, part food memoir, all love letter to France, this nonfiction follows 'the nation's taster in chief' Felicity Cloake's very own Tour de France, cycling 2,300km across France in search of culinary perfection; from Tarte Tatin to Cassoulet via Poule au Pot, and Tartiflette. Each of the 21 'stages' concludes with Felicity putting this newfound knowledge to good use in a fresh and definitive recipe for each dish – the culmination of her rigorous and thorough investigative work on behalf of all of our taste buds. Quite frankly, the whole thing sounds delicious!
Death and Croissants by Ian Moore
We said there were loads of Croissant titled books didn't we? Well, here's the next one. Death and Croissants has been compared to Richard Osman's The Thursday Murder Club and Alexander McCall Smith's cosy mysteries, following one willing amateur detective, and the guy she's dragging along to help her, solve a murder in the Loire Valley. This sounds like a fun read for any French holiday.
Kisses and Croissants by Anne-Sophie Jouhanneau
Okay, I promise, I'll stop with the croissant recommendations after this. Kisses and Croissants is a YA romance set during an elite ballet program. Main Character Mia has only ever wanted to be a dancer, but when she meets Louis, she learns there's a lot more to love about Paris. It is the city for it after all. This one is going to be super cute, and we're hoping for the same vibes as Anna and the French Kiss or To All the Boys I Loved Before.
The Little French Bookshop by Cecil Pivot
The Little French Bookshop follows Esther, a bookseller who has just lost her father. After putting an ad in a local newspaper, inviting struggling readers to join her secret letter writing workshop, Ester receives hundreds of applications – and the group she begins to work with open up a world of adventures for her, revealing secrets, seeking advice and buying new hopes and dreams. Perfect for fans of Eat Pray Love, and other self-journey novels in cute settings.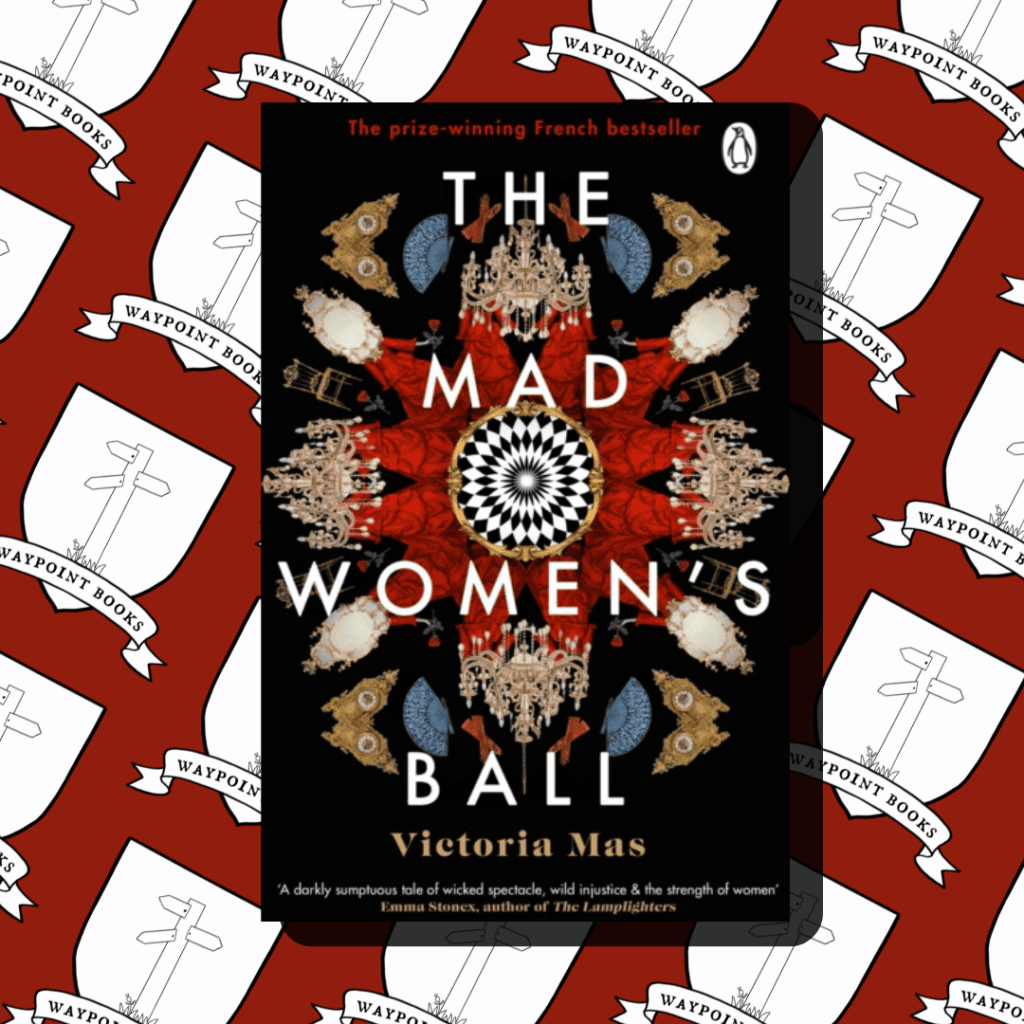 The Mad Women's Ball by Victoria Mas
This literary historical novel is a tour-de-force of horrors faced by institutionalised women in 19th century Paris. And, very exciting, soon to be a major film with Amazon studios. Dr. Charcot holds all of Paris in thrall with his displays of hypnotism on women who have been deemed mad and cast out from society. But the truth is much more complicated—these women are often simply inconvenient, unwanted wives, those who have lost something precious, wayward daughters, or girls born from adulterous relationships. For Parisian society, the highlight of the year is the Lenten ball—the Madwomen's Ball—when the great and good come to gawk at the patients of the Salpetriere dressed up in their finery for one night only. For the women themselves, it is a rare moment of hope. Dark, powerful and twisted, this is perfect for fans of Gothic Fiction and horror.
The Beautiful Ones by Silvia Moreno Garcia
We're so excited for you to read this book, our next review will be covering it from top to toe. But for now, The Beautiful Ones is a historical romance novel set in an alternate France filled with aristocracy, passion, drama and telekinsis. Valerie is a beautiful one, has a good name, good breeding, and is married to one of the richest men in the city. Hector was her lover ten years ago, and loves her still; but when she refuses to run away with him, he starts to court Nina, Valerie's husband's cousin. We did promise drama after all. The tension in this novel is exquisite, and this unsung heroine of its genre deserves your full attention. Oh, and it's kind of set in France.
So what did you think of our list? Does it have that je ne sais quoi? Which book are you likely to pick up from this list? Let us know in the comments below! And don't forget to click those links to see the full synopsis of each book!