Naomi Novik's Scholomance Series (Book 1 and 2) Review
Naomi Novik is an incredible fantasy writer, and one of my top five 'easy to recommend' authors. Each of her books has a different style which shows such a fun range and a great understanding of the flexibility of the genre. So when I came to review The Last Graduate (Book 2 in the Scholomance Series) I was surprised to see I hadn't shared my thoughts on the first in the series yet! A late September release in 2020, I didn't get a chance to read it until January of this year; so I'd like to put it down to that (and Waypoint Books being in its infancy). Either way, it's a mistake I can easily rectify now. I received an ARC of The Last Graduate, so this review is mainly of the second book in the series; but is spoiler-free for both books.
Synopsis – A Deadly Education (Scholomance #1)
Lesson One of the Scholomance: Learning has never been this deadly. A Deadly Education is set at Scholomance, a school for the magically gifted where failure means certain death (for real) — until one girl, El, begins to unlock its many secrets. There are no teachers, no holidays, and no friendships, save strategic ones. Survival is more important than any letter grade, for the school won't allow its students to leave until they graduate… or die! The rules are deceptively simple: Don't walk the halls alone. And beware of the monsters who lurk everywhere. El is uniquely prepared for the school's dangers. She may be without allies, but she possesses a dark power strong enough to level mountains and wipe out millions. It would be easy enough for El to defeat the monsters that prowl the school. The problem? Her powerful dark magic might also kill all the other students.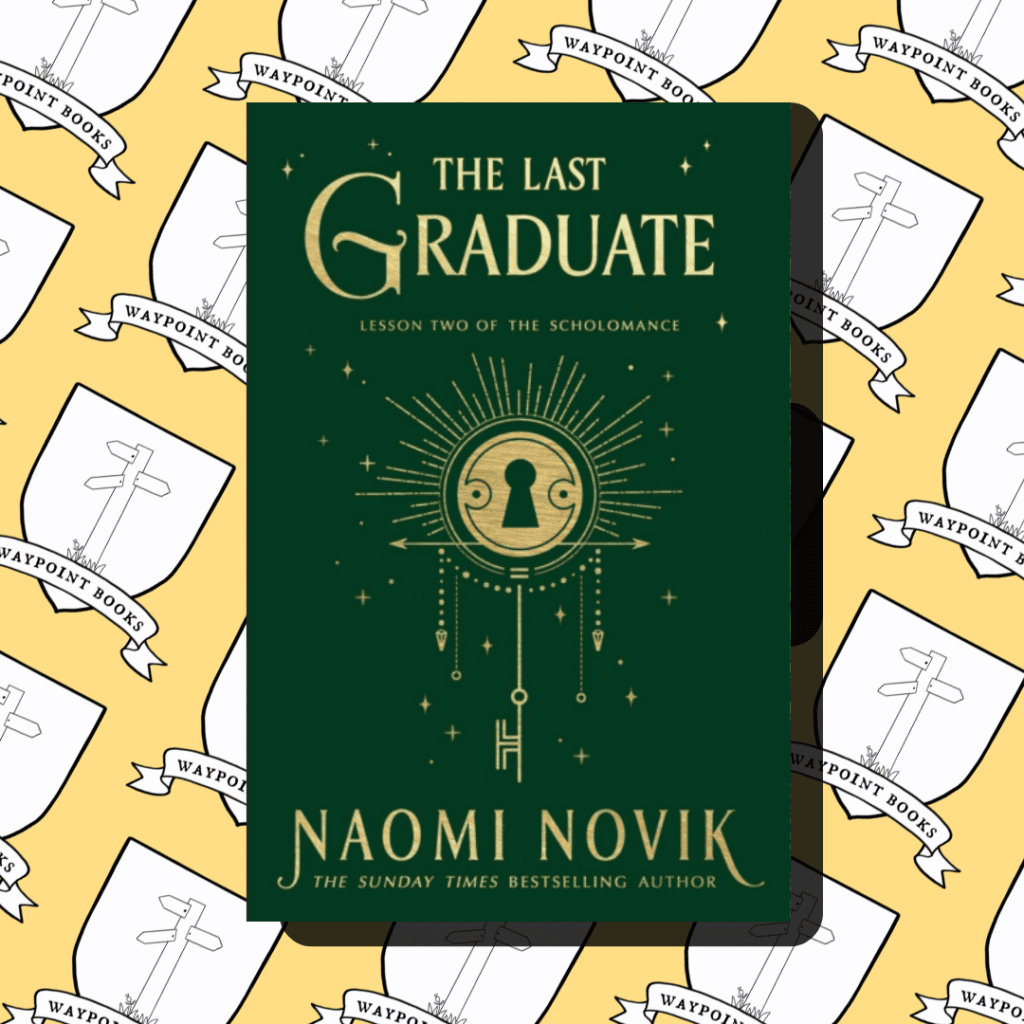 Synopsis – The Last Graduate (Scholomance #2)
A budding dark sorceress determined not to use her formidable powers uncovers yet more secrets about the workings of her world in the stunning sequel to A Deadly Education, the start of Naomi Novik's groundbreaking crossover series. At the Scholomance, El, Orion, and the other students are faced with their final year–and the looming spectre of graduation, a deadly ritual that leaves few students alive in its wake. El is determined that her chosen group will survive, but it is a prospect that is looking harder by the day as the savagery of the school ramps up. Until El realizes that sometimes winning the game means throwing out all the rules . . .
Trigger Warnings: Violence, Murder, Blood & Gore, Suicide (mentioned), Parental Death/Bereavement.
"Of course, nobody else even noticed my grand noble desicion to save all their lives… because consider this week's ridiculous course, that was the only sensible thing to do."

Naomi Novik, The Last Graduate
The most succinct way to summarise The Scholomance Series, is to compare it to a certain Magic School Series and then say 'but waaaaaay darker'. The Scholomance is a twisted magic school that traps budding sorcerers inside until they're strong enough to break out, past the monsters and mouths which spend the rest of the year feasting on those who aren't smart or strong enough to protect themselves. Created by sorcerers who wanted to create a place for those young sorcerers to learn a variety of magic practices in 'relative' safety, The Scholomance is one of the most interesting Magic Schools I've read about in a while. Part Labyrinth, part boarding school – students must navigate every stage of their matriculation, from eating to showering, ever watchful for things that go bump in the night.
El, our main character and driving narrative voice, is an incredibly powerful sorcerer – and it's her magic that draws the monsters and mouths to her. She has a particularly dry and sarcastic tone which works perfectly as she exposits through book one and two, about the world she cannot escape and all the options which could be open to someone part of a group or enclave. Which she is not. Her fellow students learn the hard way about how her magic manifests, and just how far she can push it. But the Scholomance is pushing back, and the stakes are raised considerably in book two. It's a sequel's job to develop on the world and narrative which is set up in book one, and I was pleased to see that The Last Graduate follows a completed story arc of its own, rather than following the same steps and mistakes El and her friends made in book one. I loved all the little side quest stories as she lets more people into her life, and it was fun to see the banter between El (the resident grump) and Orion, the golden retriever in human form.
There have been two key criticisms about The Scholomance Series; the first is the racial representation and I just wanted to address it now in the review. A Deadly Education came out about the same time as Addie La Rue by V. E. Schwab, and it became common discourse to compare Addie La Rue which had no representation, and Deadly Education which had BIPOC characters – but harmful stereotypes that needn't have been part of the narrative. For example, El is a biracial character, who's mother is Welsh and father is Indian. One of the harmful stereotypes about minorities is 'the smell' so I was disappointed to see that El is described as not bathing and smelling bad due to the living conditions of the Scholomance. El is not the only character to forgo bathing (as monsters have a habit of coming out of the drains, and attacking when students are vulnerable) but it was insensitive and not something to be ignored. Novik has since apologised and I believe current prints do not include the description as it's unnecessary. Equally, Novik is a British Author, and some people have raised the argument that she can't claim to understand the biracial experience explored through her main character. If you would rather check out some Own Voices Authors, we have some great recommendations for you; however, if (like us) you think diverse representation is important regardless of author, Novik is at least open to criticism and apologising – which we love to see.
The thing that surprised me the most about The Scholomance Series was the pacing and narrative drive. Uprooted and Spinning Silver (earlier works by Novik) are notoriously slow burn fantasies, with spiralling settings and narratives that sink roots deep within you before moving through the character arc. The Scholomance is not like that – something is happening on every page, every plot twist more dramatic than the last, the characters working through problems and journeying through self-discovery which I love. And the endings… Well. I said I wouldn't spoil them, so I won't. But I would absolutely recommend clearing weekend plans so that you can devour these books as I did. They're wonderful, and I can't wait to find out what happens in the next chapter of the Scholomance.
Overall, I gave both books ⭐⭐⭐⭐ as they were fun, high octane reads which explored traditional fantasy concepts in a fun new way. These books are very exposition-heavy, but perfect for fans of Urban Fantasy.